Hardy, versatile, and beautiful, boxwoods can really brighten up your garden and if you have the inclination, these shrubs can even be cleverly shaped. It's not really a garden, however, if you leave boxwoods all alone, and today we're going to talk about giving them some proper companion plants.
While you've got a lot of options, we've narrowed it down to our top 10 companion plants for boxwoods and we think that you'll like these choices – there's a little something for everyone, so read on and we'll give you a little inspiration for your own little slice of Nature at home!
Companion Plants For Boxwoods
See other posts on companion plants:
1. Arctic Fire Dogwood – Cornus sanguinea 'Arctic Fire'
Arctic Fire dogwood is a beauty, with a spring configuration that's much like a standard shrub, but in the winter, you'll see a transformation as the stems become a bright and vibrant red.
During the springtime, you can expect some flowering, and along with small, white flowers the dogwood will produce berries that the birds absolutely love.
These make an excellent companion for your boxwood and with some clever planting, you can devise an amazing crimson border that will really brighten up those grim winter days!
Mature Size:  Arctic Fire dogwood grows to a height and width of  to 5 feet.
Flowering:  Flowers appear in the late spring and your dogwood will become bright red in the late fall.
Key Features: Provides beauty year-round and the color in winter really has to be seen to be believed – this one's definitely a keeper!
2. Pot Marigold- Calendula officinalis
For beauty that comes with practicality, the Pot Marigold makes a fine companion for your boxwood shrubs. The flowers, typically a deep orange or a bright yellow, will bring a lot of color as a boxwood border but they also bring the flavor.
As it turns out, the leaves are edible, and when added to a salad, they give it a bit of a peppery tang that will definitely liven up your meal. For crafty types out there, you can also make a lovely yellow dye with the flower.
If you want a practical companion for your boxwood, then the Pot Marigold is definitely hard to beat!
Mature Size:  Pot Marigolds have a modest height and width, growing up to be 1 – 2 foot tall and just as wide.
Flowering:  These plants are long bloomers, making their appearance in the summer and lasting well into the fall.
Key Features: These plants are compact, aesthetically pleasing, edible, and allow you to make an amazing all-natural yellow dye.
3. Crimson Pygmy –  Berberis thunbergii 'Crimson Pygmy'
Also known as 'Japanese Barberry', the Crimson Pygmy is quite the lovely shrub. It requires little care and while it does produce tiny, pale-yellow flowers in the spring, the real draw is it's burgundy foliage.
When the fall arrives, the Crimson Pygmy sports deep burgundy leaves with a slight bronzing effect to them that will definitely catch the eye and contrast your boxwood quite nicely.
Mature Size:  Wider than they are tall, Crimson Pygmies grow to a height of 18-24 inches, with a width of 30 – 36 inches.
Flowering:  Bright yellow flowers appear in April and they'll produce berries that the birds will love during the summer and fall.
Key Features: These shrubs attract birds and also provide a striking color display to add some lovely contrast to your boxwoods.
4. Flanders Poppy – Papaver rhoeas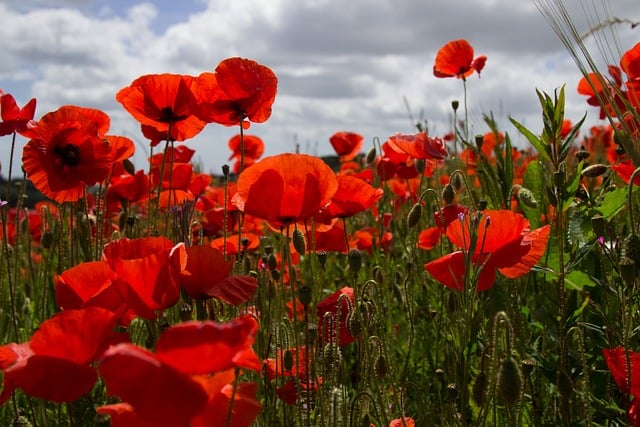 You don't always have to stick with shrubs when pairing companion plants with your boxwood and Flander's poppy is living proof of that.
These UK natives are found throughout the countryside and cultivated in many a garden, as well. While the flowers you'll find are mostly a striking red, there are cultivars available in yellow, white, pink, and orange.
If you really want to brighten up the boxwoods, Flanders Poppy can do the trick nicely!
Mature Size:  Flanders poppies may grow anywhere from 9 inches up to 24, with a spread of 6-12 inches wide.
Flowering:  Your Flanders poppies will 'show their stuff' starting in late spring and lasting until the early summer.
Key Features: Truly amazing color and local deer won't eat them! Add in that they are virtually care-free and Flanders poppies make a great addition to your boxwoods. 
5. Lady's mantle – Alchemilla mollis
Sometimes subtlety is best and Lady's Mantle can deliver in this regard. Used as a border plant with your boxwoods, the light gray-green of it's scallop-shaped leaves help to produce a shading effect that is incredibly effective in contrasting your boxwood without 'drowning it out'.
Even the blooms are a low-key greenish-yellow and as it is a low-grower, it won't obscure the view of your boxwoods while the soft contrast helps to bring more attention to them.
Mature Size:  Lady's mantle has a mature height of 6-12 inches tall, with a spread approximately 2 feet wide.
Flowering:  You can expect the yellowish-green blooms to make their appearance in late spring and they should remain until early summer.
Key Features: Lady's mantle works as an effective border by the means of soft, compatible color, rather than contrast.
6. Purple Coneflower – Echinacea purpurea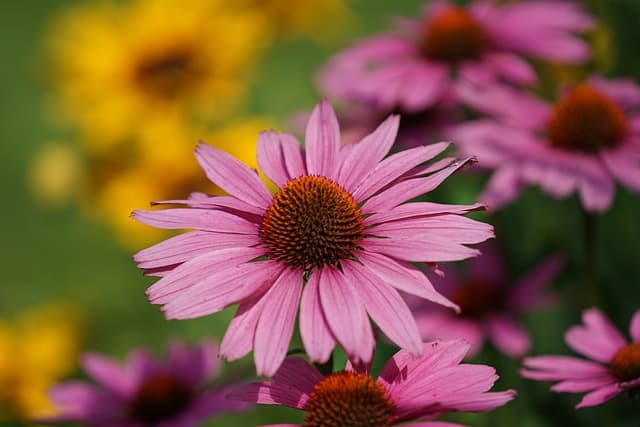 Purple coneflower, known more commonly as Echinacea, is also a fine addition to your garden that can set off your boxwoods in splendid fashion. The purple flowers provide a beautiful contrast and if you like growing herbs, then having echinacea in your yard is also extremely practical.
If you like a little utility in your garden, then Purple conflower is just what the doctor ordered!
Mature Size:  Echinacea has a mature height of 3 – 4 feet tall with a spread between 1.5 and 2 feet wide.
Flowering:  Blooming of the Purple coneflower occurs in June and will last into August.
Key Features: This choice is aesthetically pleasing and also doubles as a world-renowned herbal remedy.
7. Rheingold Arborvitae – Thuja occidentalis 'Rheingold'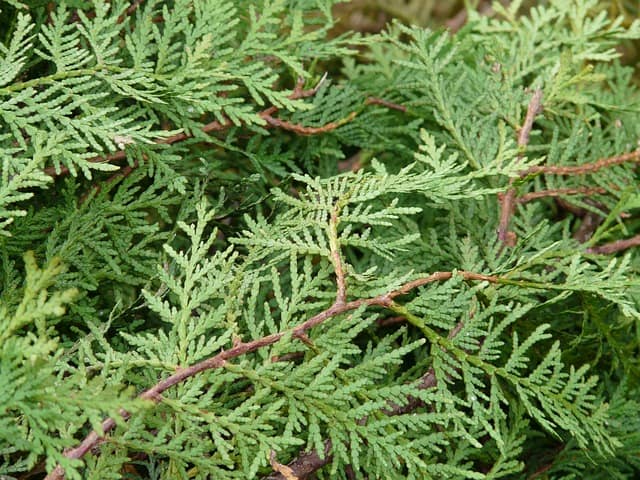 Rheingold Arborvitae shrub is an evergreen that is a member of the Cyprus family and like Lady's mantle, it's soft, golden hues help to accentuate your boxwood without the need to saturate the area with color – although they will bring some (more on this shortly).
Typically a dome or a cone-shape, these shrubs provide subtle aesthetics from a combination of light, golden hues and their natural design, giving you a cultivated look without a lot of trimming involved.
In the summer, you'll even get a touch of color from small, lovely orange-red flowers that will hang around for about a month.
Mature Size:  Rheingold Arborvitae can grow to be between 3-6 foot tall, with a 4.5 foot wide spread.
Flowering:  Rheingolds will flower between May and June and while the period is brief, the blooms are quite stunning.
Key Features: Subtle coloration until May that makes for a light, tasteful border or background that will 'come to life' for a space with brilliant orange-red blooms.
8. Rose – Rosa rubiginosa and varieties
Roses are beautiful enough on their own, but with a border of boxwoods they really look fantastic and it's a practical arrangement. The taller roses are able to get the sunlight that they need, while the boxwood will flourish just fine in their shade.
Mature Size:  Roses can grow from 6 to as much as 10 feet tall, with a spread that's just as wide.
Flowering:  Rose Bushes typically flower from late spring until the middle of summer.
Key Features: Roses are a favorite around the world and with boxwood shrubs, you've got the perfect border to bring attention to both plants.
9. Shasta daisy – Leucanthemum × superbum
Shasta daisies provide a brilliant backdrop or border for your boxwoods, with their bright-white petals and rich, yellow disc florets. Aside from their beauty, Shastas are often chosen due to the fact that they are extremely hardy and easy to care for.
If you want a touch of summer color, they're a low-maintenance solution that will announce to you and the world around you that summer has, indeed, arrived!
Mature Size:  Shasta daisies grow to a height of 2 – 3 feet tall, with relatively modest spreads of 1 -2 feet wide.
Flowering:  These robust beauties will usually flower in July and last until September.
Key Features: Hardy, beautiful, and a great companion plant for brightening up the boxwoods. 
10. Zinnia – Zinnia elegans and varieties
Speaking of color, our final entry in the top 10 is the Zinnia elegans, also known as the 'common zinnia'. Easy to take care of, zinnias have long been a favorite for their vibrant color and the range of color choices. You can find zinnias that are orange, red, pink, yellow, white, and green… just to name a few!
If you really want your boxwoods to become quite eye-popping in the summer, then zinnias are definitely the way to go!
Mature Size:  Zinnias have a mature height of 1 – 3 feet and a spread of approximately 15 inches wide.
Flowering:  Your zinnias will pop with color starting in the late spring and lasting until the first frost of the late fall.
Key Features: Colorful, easy to raise, and absolutely bursting with color, zinnias are one of the most beloved summer flowers around and will look great with your boxwood.
Conclusion
As you can see, when it comes to companion plants for your boxwood you've got plenty of excellent choices. Whether you want to splash them with summer color via some cleverly planted zinnias or take a more subtle, shaded approach with a lady's mantle, there's a little something for everyone.
Whether you are shaping those boxwoods or displaying them au naturale, with these companion plants you can take things to the next level and your boxwoods are sure to be looking their best!
Frequently Asked Questions
Does trimming boxwoods make them grow faster?
While trimming your boxwoods will help to keep them looking their best, it will not actually affect their growth rate. That said, it's still a good habit to get into with these evergreens as the difference between an unkempt and a properly-trimmed boxwood shrub are like night and day.
Can boxwood be cut back hard?
While most evergreens respond poorly to this, boxwood will actually grow back quite nicely even if you cut it back quite dramatically.
As such, if you feel like trying your hand at shaping your shrub, you may do so with confidence – these hardy plants will grow back healthy and strong – and a little practice can yield some amazing results.
What is the best fertilizer for boxwoods?
A nice and balanced, slow-release fertilizer is going to be your best choice with boxwoods. We recommend a 10-6-4 urea granular fertilizer or if you have some livestock in your area, old-fashioned aged manure also works as a treat for promoting healthy growth in your boxwood.
Just make sure that it's getting plenty of nitrogen and you should definitely see some positive results!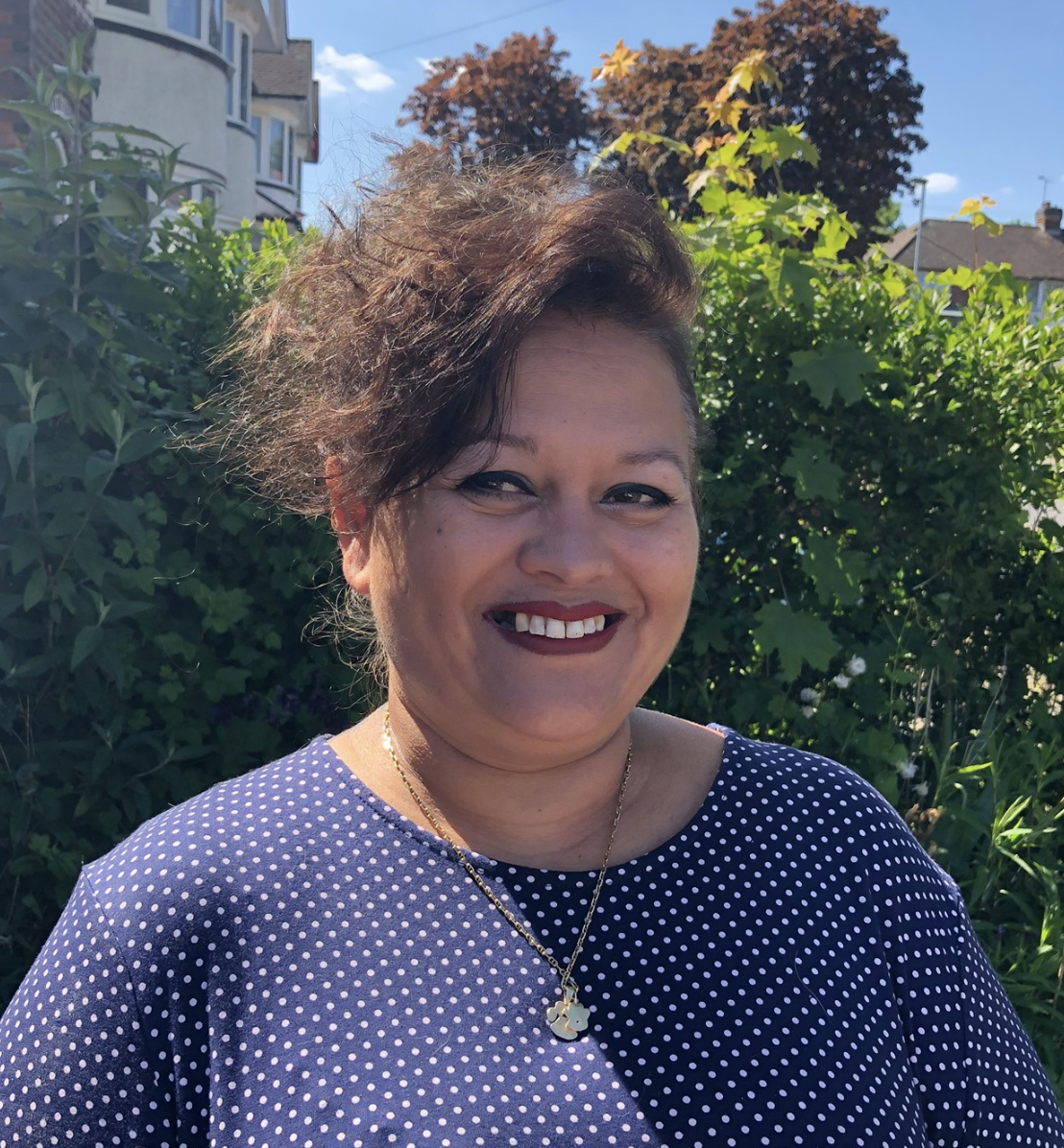 Hey, I'm Lisa and I've been an avid gardener for over 30 years. I love writing, talking and living in the garden! Feel free to connect with me on my socials below