Lemon balm (Melissa officinalis) is a perennial herb in the mint family that is known for its lemon-scented leaves. This versatile plant can be used in cooking, as a decoration, or even as a natural remedy for anxiety and insomnia.
Lemon balm also makes a great companion plant, thanks to its ability to deter pests and attract beneficial insects. In addition to its pest-deterring properties, lemon balm has been shown to have antiviral and antibacterial effects, making it a valuable addition to any herb garden or natural medicine cabinet.
What are the 10 best lemon balm companion plants?
Catnip
Lavender
Rosemary
Thyme
Sage
Basil
Oregano
Cilantro
Marigold
Nasturtium
By planting these herbs together, you can create a beautiful and fragrant garden that is also productive and helpful in the kitchen.
Also read:
1. Catnip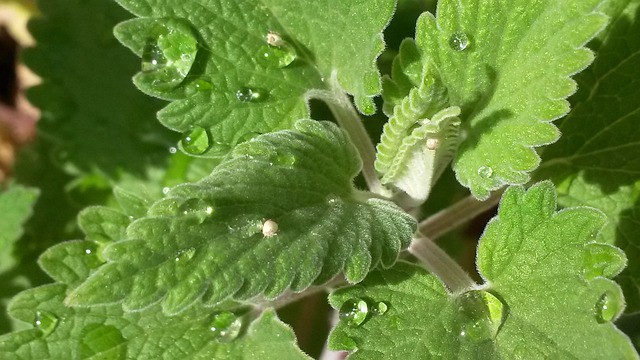 This hardy, drought-tolerant herb is a member of the mint family and shares many of lemon balm's beneficial properties. Catnip can also be used to make a refreshing tea.
Mature Size:
Catnip (Nepeta cataria) is a herbaceous perennial that typically grows to about 2-3 feet in height at maturity. However, under ideal conditions, it can sometimes reach heights of up to 4 feet. 
Flowering:
It has aromatic, gray-green leaves and small white or lavender flowers that bloom in midsummer. 
Key Features:  
Once established, catnip is a very hardy plant and does not require a lot of care. However, it will benefit from being trimmed back after flowering to promote new growth.
Cats are attracted to the scent of catnip and will often rub their faces on the leaves or chew on the leaves and stems. Some cats will even roll around in a patch of catnip.
2. Lavender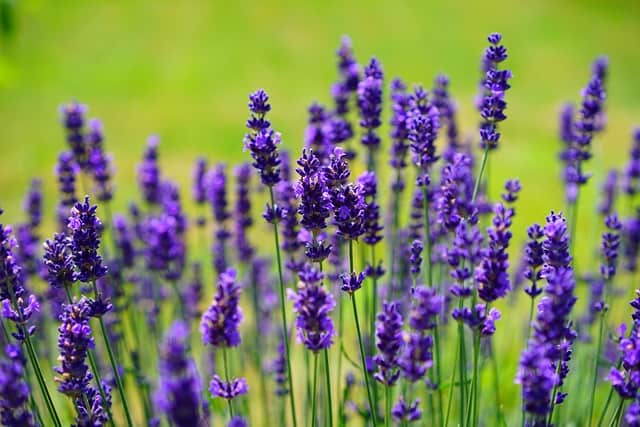 A classic companion plant, lavender is both beautiful and fragrant. Its soothing scent is known to promote relaxation, making it the perfect plant to pair with lemon balm.
Mature Size:  
When mature, lavender plants typically reach a height of 2-3 feet and a width of 1-2 feet. They have long, slender leaves that are covered in tiny hairs. 
Flowering:  
The flowers are small and range in color from deep blue to purple. The plant has a strong, sweet smell that is both relaxing and refreshing. 
Key Features:  
The flowers grow in spikes at the ends of the stems and bloom from late spring to early summer. Lavender is relatively easy to care for and can be planted in either full sun or partial shade. It prefers well-drained soil and should be watered regularly during the growing season.
3. Rosemary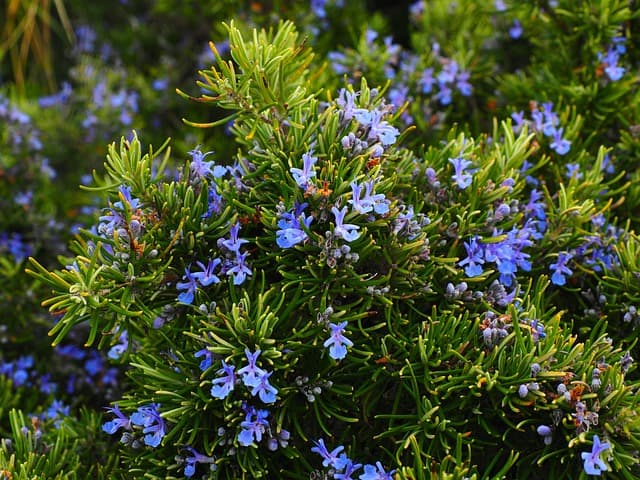 Another aromatic herb, rosemary is an excellent choice for companion planting with lemon balm. The two herbs can be used together in cooking or dried and used for potpourri or sachets.
Mature Size:  
When fully grown, rosemary plants typically reach between 2 and 5 feet in height, with a spread of 2 to 3 feet. 
Flowering:  
They are upright shrubs with narrow, leathery leaves and small, blue flowers that bloom in the spring. 
Key Features:  
Rosemary is a drought-tolerant plant that does best in well-drained soil and full sun. However, it can also grow in partial shade and will tolerate a wide range of soil types as long as they are not waterlogged.
With proper care, rosemary plants can live for many years; some specimens have been known to reach 20 years or more. 
4. Thyme
A versatile culinary herb, thyme goes well with many different dishes. It also has a long history of use in herbal medicine. When planted near lemon balm, it can help to deter pests such as aphids and spider mites.
Mature Size:
 The plant can reach a height of 10 inches (25 cm), with a spread of 12 inches (30 cm). 
Flowering:
It has tiny, aromatic leaves and delicate flowers that can range in color from white to pink. 
Key Features:
Thyme is native to the Mediterranean region and is commonly used in cooking as a seasoning. However, it can also be used as a ornamental plant in the garden. When growing thyme, it is important to give it plenty of sunlight and well-drained soil. It is also important to prune it regularly to encourage new growth.  
5. Sage
An effective insect repellent, sage is often used in natural pest control solutions. It is also a flavorful addition to many recipes, making it a great choice for the kitchen garden.
Mature Size:
Most sage plants will reach a mature height of 2 to 3 feet. They may spread up to 4 feet wide, although this can vary depending on the specific variety. 
Flowering:  
Sage flowers are typically purplish-blue in color, although some varieties may have white or pink flowers. The flowers of sage plants are borne on tall spikes and bloom from early summer to fall. 
Key Features:
Sage is a popular culinary herb, and it is also used in many traditional medicines. In some cultures, sage is believed to have mystical powers, and it is often used in magical rituals. 
6. Basil
A popular culinary herb, basil has a fresh, slightly sweet flavor that pairs well with lemon balm in salads, soups, and pesto sauces. Additionally, basil is known to attract bees and other pollinators to the garden.
Mature Size:
A basil plant will mature anywhere from 6 to 18 inches in height, with a similar spread.
Flowering:  
Depending on the variety, the leaves of basil can be green, purple, or red. The flowers are white or purple and blooming typically occurs from summer to fall. 
Key Features:  
In general, basil plants need full sun and well-drained soil in order to thrive. If you are concerned about the size of your basil plant, it is best to err on the side of caution and give it plenty of space to grow.
7. Oregano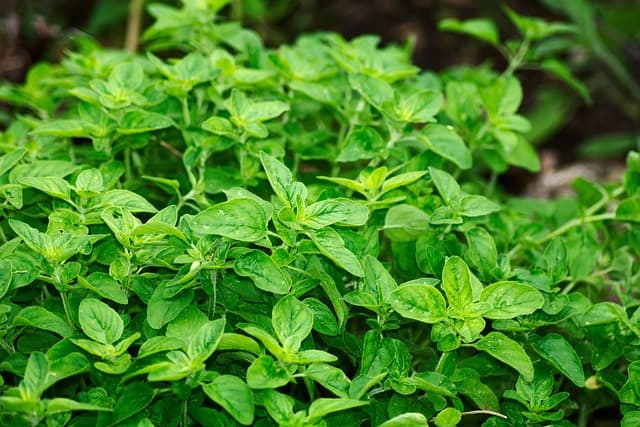 Another member of the mint family, oregano has a strong flavor that goes well in Italian-inspired dishes like pasta sauce and pizza toppings. When planted near lemon balm, it can help to deter destructive garden pests like rabbits and deer.
Mature Size:
Once it reaches maturity, oregano will typically grow to be between 12 and 24 inches tall. 
Flowering:
The flowers are white or pink and bloom in the summer.
Key Features:
Oregano can be grown in pots or in the ground. It prefers full sun and well-drained soil. The plant should be watered regularly, especially during dry periods.  
8. Cilantro
A zesty addition to salsa and guacamole, cilantro is also known for its detoxifying properties. When grown near lemon balm, it can help to keep the area around the plants free of harmful insects and toxins.
Mature Size:
Most cilantro plants will reach a height of 12-24 inches (30-60 cm).  
Flowering:  
Cilantro has small white or pale pink flowers that bloom in summer, producing seed pods that contain the characteristic flavor of cilantro. 
Key Features:  
When grown under ideal conditions, cilantro plants can produce an abundance of fresh leaves for harvesting. However, if the plants are stressed by heat or drought, they will bolt (send up a flowering stalk) and go to seed more quickly. 
9. Marigold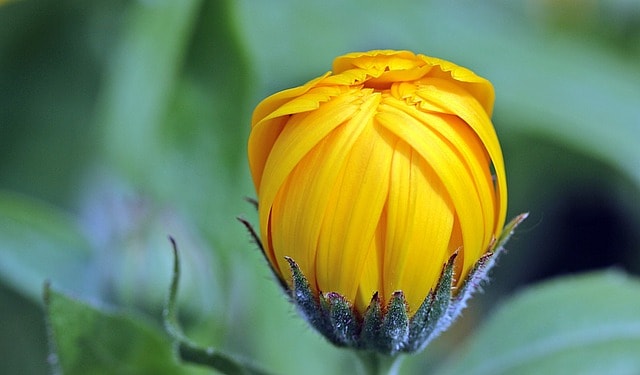 A vibrant addition to any garden, marigolds are known for their ability to deter harmful pests like nematodes, mosquitoes, and rabbits. They also emit a strong scent that can help mask the fragrance of lemon balm from browsing animals such as deer and squirrels.
Mature Size:  
Marigolds are annual plants that typically mature to a height of 12-18 inches and a width of 6-12 inches. 
Flowering:  
They have showy, bright flowers that bloom from late spring to early fall. 
Key Features:
Marigolds are low-maintenance plants that thrive in full sun and well-drained soil. They are popularly used as border plants or in mass plantings. 
10. Nasturtium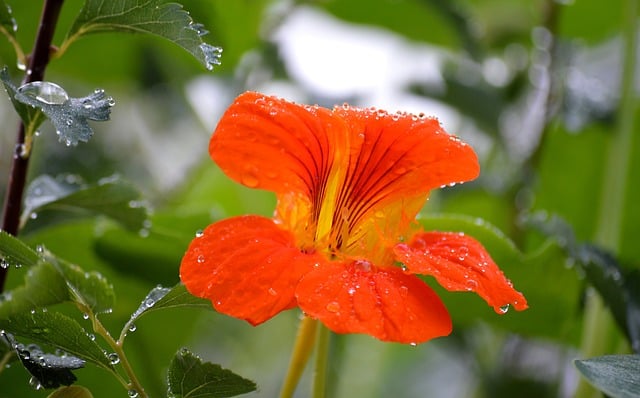 Brightly colored and delicately fragrant, nasturtiums make lovely companion plants for lemon balm (and are also edible!). They are known to attract aphids and other harmful pests away from valuable crops like tomatoes and legumes.
Mature Size:  
Nasturtiums are fast-growing annuals that typically reach a height of 10-12 inches and a width of 12-24 inches.
Flowering:  
The leaves of nasturtiums are round or heart-shaped, and the flowers can be either single or double
Key Features:  
The fruit is small and slightly pear-shaped, with a thick skin and hollow center. The flesh of the fruit is white or pale green, and it has a peppery flavor.
Conclusion
Melissa officinalis, or lemon balm, is a perennial herb of the mint family with distinctively lemony leaves. This multipurpose herb has several applications, including in the kitchen, as an ornamental plant, and as a treatment for insomnia and nervousness.
Because of its ability to both repel harmful insects and entice helpful ones, lemon balm is a fantastic choice as a companion plant.
Frequently Asked Questions 
Will lemon balm take over my garden?
If left unchecked, it will spread rapidly through underground runners and take over an area. Lemon balm is a hardy plant that can tolerate a range of conditions, so it can be difficult to control once it has established itself.
The best way to prevent lemon balm from taking over your garden is to plant it in a contained area, such as a pot or raised bed. You can also mow it regularly to prevent it from sending out runners.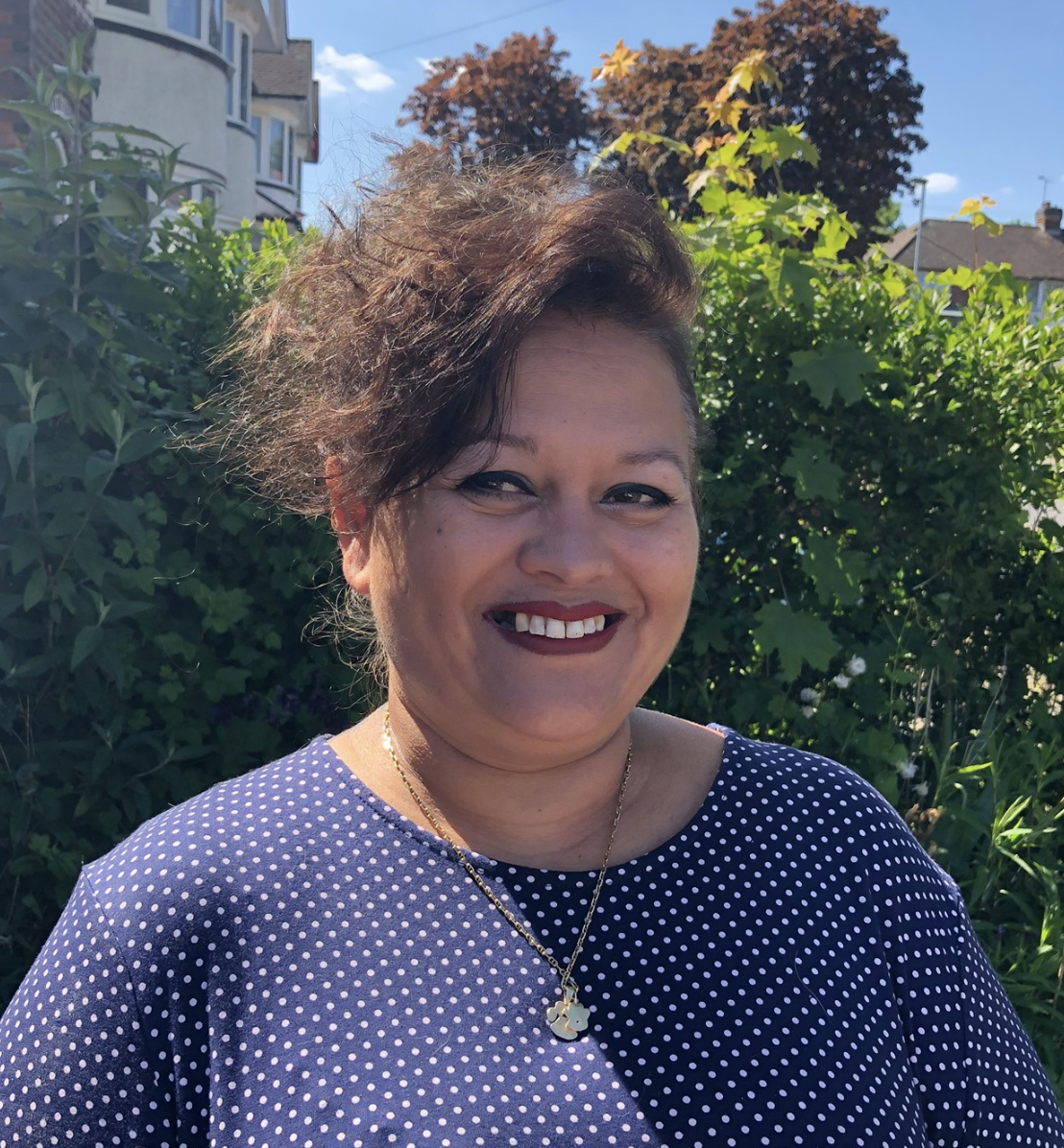 Hey, I'm Lisa and I've been an avid gardener for over 30 years. I love writing, talking and living in the garden! Feel free to connect with me on my socials below