Sky Pencil Holly is an amazing shrub. This evergreen, properly pruned and maintained, grows vertically in such a way as to make one think of Gaudi's famous geometric cathedral in Spain. Naturally, one wonders what to best pair with it and that's the subject of our article today.
In this article, we're going to discuss the top 10 Sky Pencil Holly companion plants with the aim to provide a little something for everyone. Whether you are looking to color things up or pair some comparable green majesty with your Sky Pencils, we aim to please! Choosing the right companion plants for Sky Pencil Holly can not only enhance the visual appeal of your garden but also provide functional benefits such as improved soil health and pest control.
Without further ado, let's take a look at some of the best options out there. We think that you'll agree – these plants all make fine companions to any Sky Pencil arrangement, but let's see what you think!
Top 10 Sky Pencil Holly companion plants
More on this category:
1. Steeds Holly – Ilex crenata 'Steeds'

Steeds Holly is an excellent pairing with Sky Pencil, as it grows naturally in pyramid formations that you can easily prune to perfection if you like. Its dark green color goes well with your Sky Pencil and it's not always just a stark green, manifesting white flowers in the late summer with black berries to accompany them.
Mature Size:  Steed's Holly attains a height of 6-8 feet when fully matured, with a spread of 5-6 feet.
Flowering:  These plants flower in the late summer through the fall.
Key Features:  Pyramidal shapes that are dense and beautiful, as well as easy to maintain.
2. Miss America Peony – Paeonia lactiflora 'Miss America'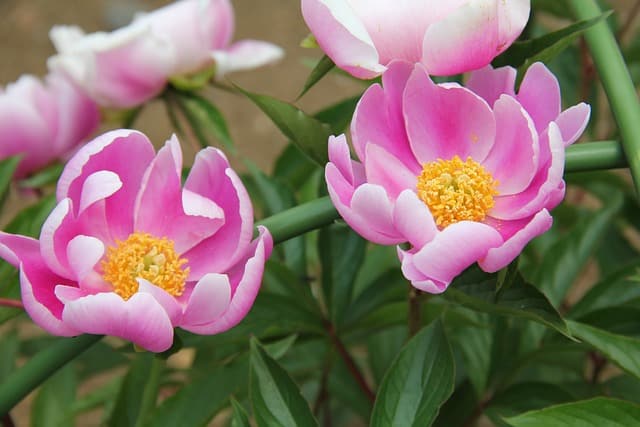 Peonies of any kind pair well with your Sky Pencil, but one of our favorites is the Miss America variety. If you'd like to add a bit of brightness and beauty to highlight your sky pencil, then the glossy-green, white-topped flower Miss America Peony makes quite the formidable companion plant.
Mature Size:  Miss America Peonies average a height of 3 feet, with a width of approximately 3.5 feet.
Flowering:  A brief bloomer, Miss America Peony flowers in late June for a period of 7-10 days.
Key Features:  Sweetly fragrant, Miss America Peony blends in well with Sky Pencil, blooming only briefly once a year to the delight of all.
3. Hoogendorn Holly – Ilex crenata 'Hoogendorn'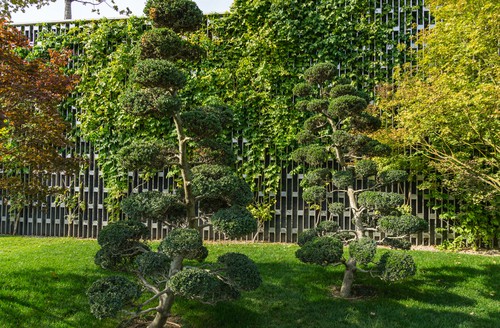 A low-grower, Hoogendorn Hollies are a variety of Japanese Holly that have lovely green leaves. They make for excellent ground cover and are highly resistant to cold winters, making them easy to maintain and a great companion plant for your Sky Pencil.
While they flower in spring, you get tiny, white flowers that will brighten things up, without drawing too much attention from your arrangement.
Mature Size:  Hoogendorn Hollies grow a modest 2 to 2.5 feet tall, with a spread averaging about 3 feet wide.
Flowering:  You can expect these Hollies to bloom reliably from April to June every year.
Key Features:  Excellent ground cover, these Hollies make great borders and the light flowering lasts a good, long time.
4. False Goat's Beard – Astilbe chinensis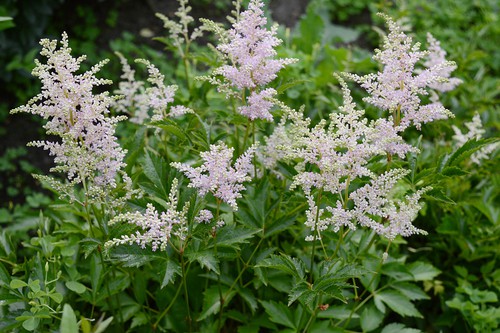 Native to Japan and to China, False Goat's Beard is a hardy grower that will bring you amazing flowers every spring.
These flowering plants are native to woodland and mountain regions, so once you've got it planted it is very easy to maintain, providing you with a simple way to add some color to go with your Sky Pencils if you would like it.
Mature Size:  False Goat's Beard has a mature height falling between 6 inches up to 2 feet tall, with a spread of around as little as 6 inches to as much as 5 feet.
Flowering:  You can expect feathered, raspberry plumes to erupt from your plant in the early summer from May to August.
Key Features:  Tall, plumed flowers that will definitely spice up your Sky Pencil arrangement for a little summer cheer.
5. Green Luster Japanese Holly – Ilex crenata 'Green Luster'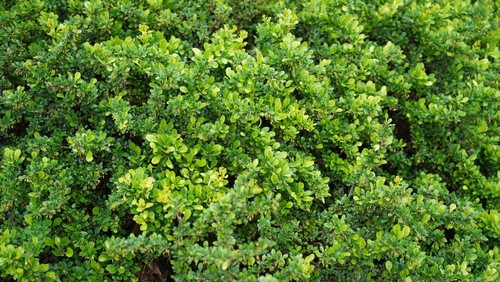 Also known as 'Box-leaved Holly', Green Luster Japanese Holly is a beautiful, low-growing shrub that is often chosen for the ornamental black berries that it produces every year. This occurs in the fall, when the leaves will be a dark green, and those leaves will also lighten up quite nicely in the spring.
Mature Size:  Green Luster Japanese Hollies have a mature height of 4 feet, with a spread of as much as 8 feet wide.
Flowering:  Ornamental fruits will appear in late fall and should last through winter.
Key Features:  Typically chosen for its fruit display, which attracts birds and envious looks from the neighbors, these plants are also chosen for their longevity and may live as long as 50 years with proper care.
6. Purple Rhododendron – Rhododendron catawbiense
A seasonal beauty that is sure to amaze, Purple Rhododendron makes a proper companion plant for your Sky Pencil that will really get you looking forward to spring.
The lavender-pink flowers, bruised with yellow at the throat, really colorize your arrangement and will also bring bees, butterflies, and hummingbirds to your yard if they are nearby.
Mature Size:  Purple Rhododendrons typically grow to a mature height of 6 – 10 feet (though rarely, larger), and have a spread of 5-8 feet wide.
Flowering:  These plants tend to flower in mid to late spring and last sporadically into the early winter.
Key Features:  Lovely lavender blooms will definitely brighten up your spring and add some color to your Sky Pencil arrangement.
7. Winter Red Holly – Ilex verticillata 'Winter Red'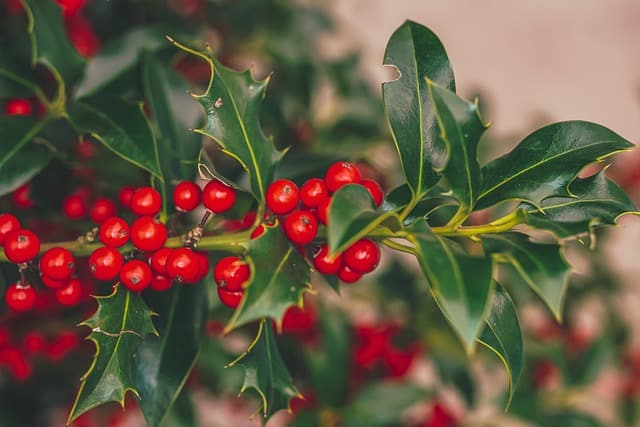 For some reliable, striking color in winter, the Winter Red Holly cultivar really delivers. These deciduous shrubs grow to be upright and well-rounded, complimenting the Sky Pencil nicely, but in the winter is when they really shine.
During this time, they'll produce beautiful red berries that are edible to birds but don't try to eat them yourself – they are toxic to humans!
Mature Size:  Fully matured, an unpruned Winter Red Holly may attain a height and width of as much as 8 feet.
Flowering:  Small, greenish-white flowers will appear in the spring and in the summer or fall you should see red berries that will last well into winter.
Key Features:  These beautiful shrubs provide striking red color in the form of their berries, which make a handy food source for locally wintering birds.
8. Blueberry -Vaccinium sect. Cyanococcus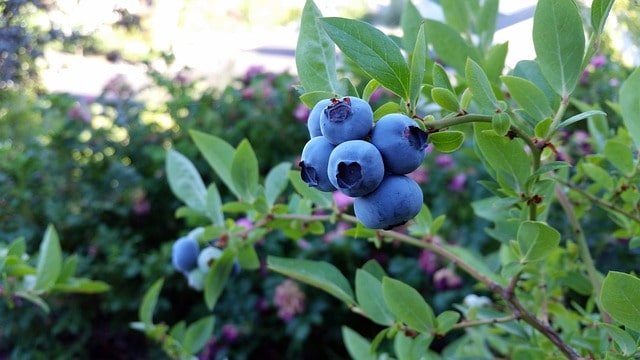 If you like the idea of fruits to go with your Sky Pencil display but want something that's not just for the birds, then why not Blueberries? Once planted, they are easy to maintain and won't require much attention at all.
While you won't see too many berries through the first 2 – 3 years, by the 5 year mark you'll be well rewarded for your efforts, and the full effect of towering Sky Pencils spaced or bordered with Blueberries is really something to see!
Mature Size:  Depending on the type of Blueberry plant, they could be as little as 1 – 3 feet tall or as much as 6 – 12 feet, with an average spread of 6 feet wide.
Flowering:  These plants produce pink, red, or white flowers in spring or early summer and you'll see fruits between June and August.
Key Features:  Easy to grow, Blueberries make your Sky Pencil display have an added dimension of seasonal taste to go with the overall aesthetics.
9. Helleri Holly – Ilex crenata 'Helleri' Helleri Holly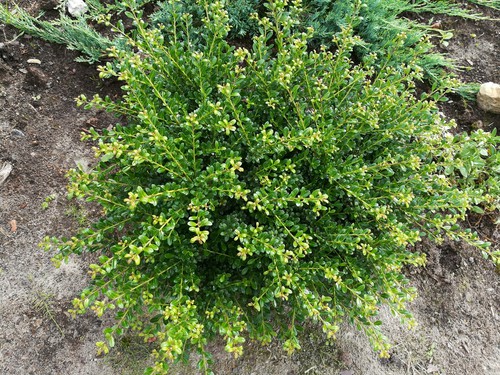 Helleri Holly makes a nice, unassuming border in the form of small, rounded mounds that flower a subtle yellowish-green. These make a nice accompaniment to your Sky Pencil that won't detract from your carefully cultivated displays.
Mature Size:  Helleri Holly has a mature height of 2 -4 feet tall and will grow to be 3 – 5 feet wide.
Flowering:  Flowers infrequently throughout the springtime.
Key Features:  Helleri Holly provides a nice, subtle compliment to Sky Pencils, without trying to 'steal the show'.
10. False Holly – Osmanthus heterophyllus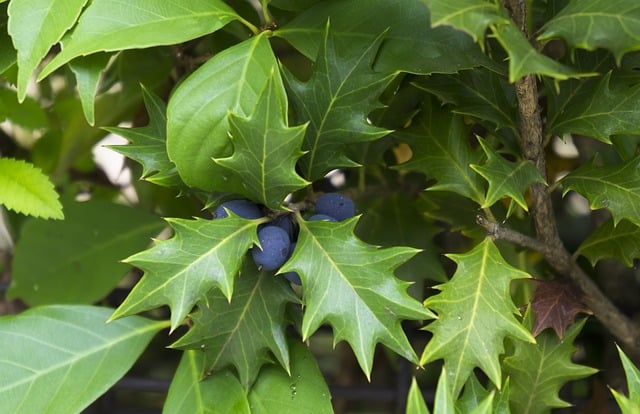 Native to Taiwan and Japan, False Holly brings true beauty to your hedge arrangement, providing deep green and oval-shaped leaves that make for excellent bordering and require very little maintenance on your part.
If you want a bit more color, you can look for Variegated False Holly and those same leaves will turn gold in the spring!
Mature Size:  False Holly needs to be pruned to your needs, as it can grow as high as 15 feet tall if unchecked, though most often it will be 8 – 10 feet tall with an 8 foot spread.
Flowering:  From late fall into winter, these plants will produce tiny white flowers that aren't very conspicuous, unless you are downwind! While tiny, the flowers are fragrant, and produce a sweet scent that you are sure to enjoy.
Key Features:  Dense and deeply green, False Holly makes for excellent bordering and the scent in spring makes them a highly desirable Sky Pencil pairing for many a grower worldwide.
Some final words
In this article, we've taken a look at the top 10 Sky Pencil Holly companion plants and there sure are some doozies! If you are looking for something somber, but with a bit of scent, then False Holly is a nice choice, although you could also go with Blueberries and enjoy an arrangement that will feed you in the summer.
Purple Rhododendron can bring the color in spring, but Winter Holly can really brighten up the colder months. It all boils down to what you are looking for in your own display, so give it a little thought and then take a trip to your local nursery or to the woods to get a few cuttings.
Before you know it, your Sky Pencils will be looking their best with the perfect companion plants that you'll be enjoying for many years to come!
Frequently Asked Questions
How fast do Japanese Sky Pencils grow?
The Japanese Sky Pencil falls into the category of a 'slow to moderate' grower. You can expect this evergreen to grow at a rate of approximately 6 to 12 inches per year and it will have a spread of about 2 to 3 feet wide when fully grown.
You can certainly prune it if you would like a slimmer shrub, but that's completely up to you!
Are Sky Pencil Holly roots invasive?
No, Sky Pencil Holly roots are definitely not invasive – you could even grow them in a container, if you like, and your plant would do just fine! That said, like all foundation plantings, you still want to make sure that if you are planting it close to home that it is at least 5 feet from the residence proper.
While the Sky Pencil roots are definitely not invasive, this is a good habit to get into with all of your plantings to avoid any unfortunate surprises.
How close together can you plant Sky Pencil Holly?
Typically, you will want to target a spacing of about 3 – 4 feet between your hollies. If you want a more formal 'hedge' look, then your best bet is to measure from the center of the shrub, targeting a spacing distance of 2 ½ to 3 feet apart.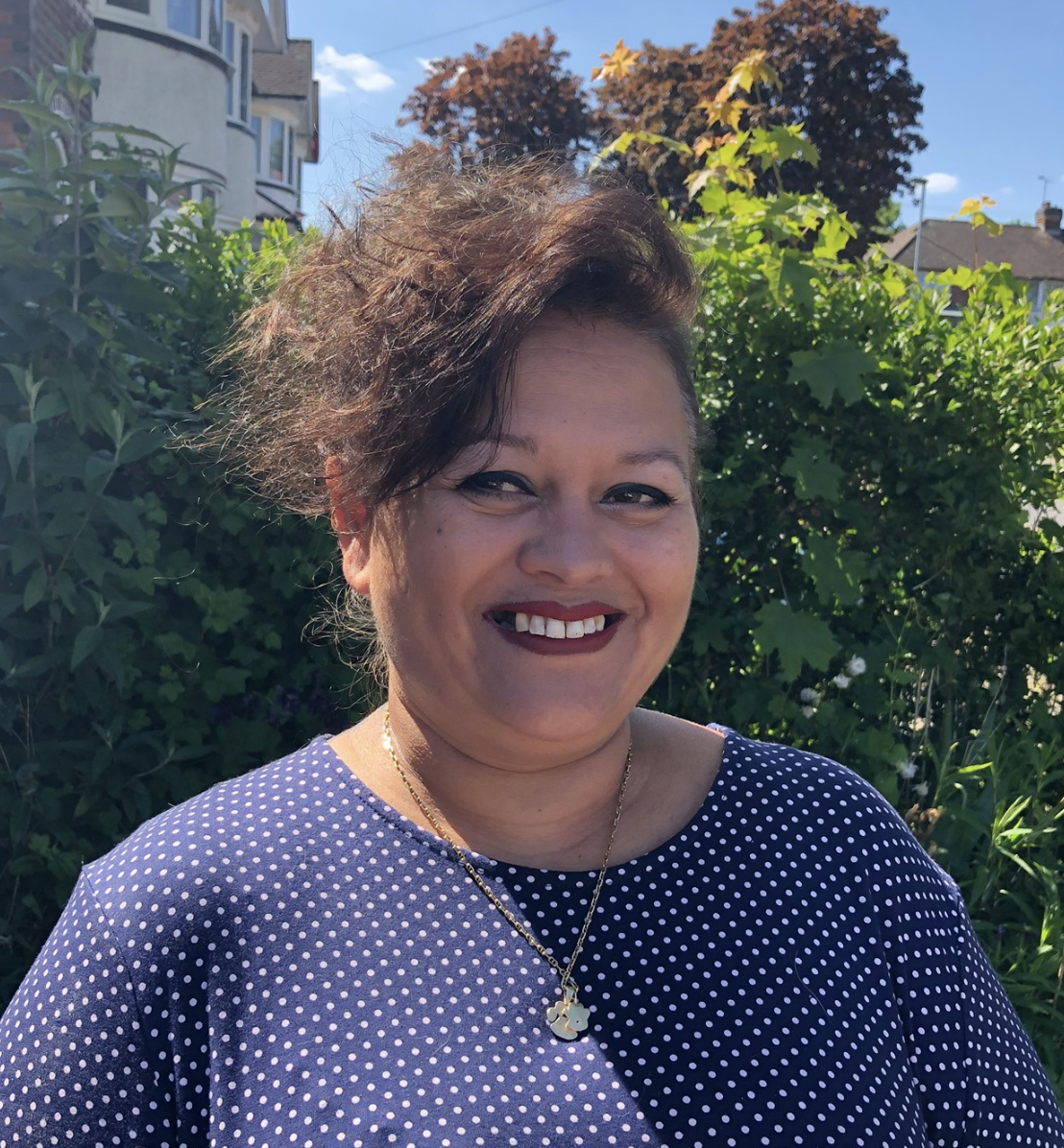 Hey, I'm Lisa and I've been an avid gardener for over 30 years. I love writing, talking and living in the garden! Feel free to connect with me on my socials below